Manon Awst: Stone's throw
02.07. – 20.08.2022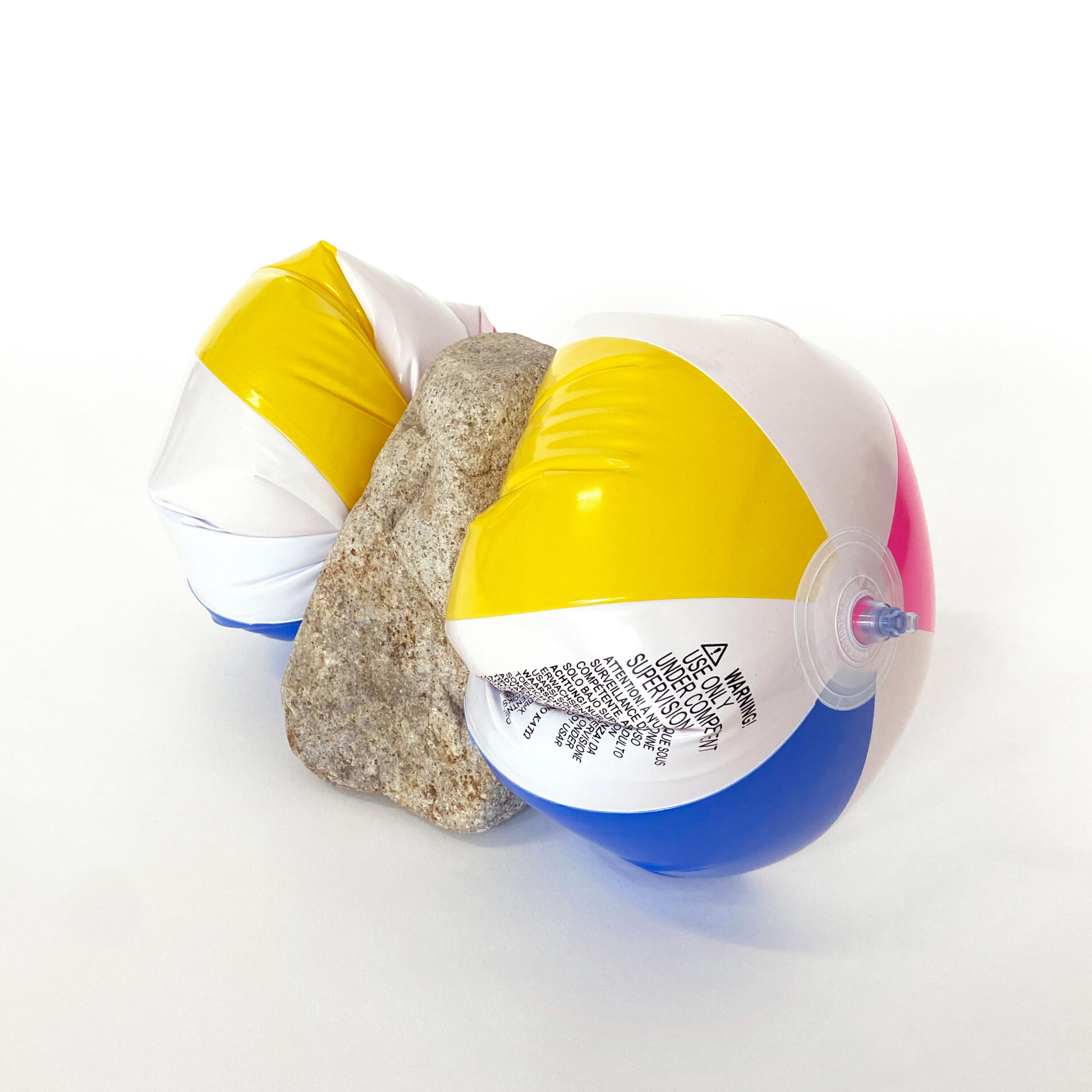 Stone's throw (Tafliad carreg) is a solo exhibition by Welsh artist Manon Awst presenting new sculptural assemblages exploring the material dynamics of leisure and tourism. Living on the coast of North Wales, the artist is familiar with the traffic of people and things that holiday season entails – folding chairs and sleeping bags, inflatables and disposable barbecues, sand and stickiness mixed with favourite playlists. Her interest lies in the way these materials stick to the landscape long after the holidays are over creating strange strata of infrastructure and meaning.
The title Stone's throw resonates for several reasons. As an idiom, it signifies a short distance — the artist lives a stone's throw from the sea. If read literally, it embodies time, space, and interaction — the thrower reaches down to pick up a stone, holds it in the palm of their hand and thrusts it in adesired direction. The title also points to an elemental relationship between body and geology — imagine a hunter-gatherer cutting flint for an arrow to hunt prey. It is connected to an expectation or an anticipated future — a movement towards something. In this context, we could think of the climate emergency and the COP26 climate pact. 2050 seems just a stone's throw from where we are now.
The main actors in this show are stones. They are mainly limestones from Anglesey, where Manon grew up. This island and the wider North Wales coast are a magnet for tourists, who flock to the area to hike, climb, camp, swim, sail… activities which bring with them a whole load of cultural and material baggage, which she incorporates into her sculptural work.
Some stones have their cores removed and filled with inflatables; others are left alone. They are replicated in different forms throughout the exhibition and mixed in with playful material narratives. The viewer is also pulled into the picture by reflections in the mirrors.
A sleeping bag is transfromed into a dress, dotted with climbing holds made from 3D-printed recycled fishing nets. The holds are also featured on several mirrors in the exhibition. On one hand, they are an invitation to touch and to grab on to. On the other hand, the fragility of the pieces makes climbing impossible – hold on, stop!
The whole of Wales is scattered with standing stones, and for the artist they are like anchors. She grew up with these stones in so many different forms – from the logo on her primary school jumper to fiberglass stone circles playing centre stage in major cultural festivals like the Welsh Eisteddfod .
The film captures recent performances at the Neolithic site of Bryn Celli Ddu, where she was an artist-in-residence during an event that celebrates the summer solstice. Here, the artist uses the sleeping bag as a starting point, which she transformed into a dress.
Narratives around habitat, tradition, spirituality, adventure, tourism, and sustainability are woven into the materiality of all the pieces in the exhibition. Although playfully performative, we can sense darker undertones where plastics and rocks, landscapes and bodies merge into something quite unpredictable and unstable.
Manon Awst is an artist based in a Caernarfon, Wales who makes sculptures and site-specific artworks interwoven with ecological and geological narratives. Her interdisciplinary approach to sites and materials is moulded by her upbringing in North Wales, her academic studies in Architecture at Cambridge University, Artistic Research at RCA in London and ten years of collaborative practice as part of the artist-duo Awst & Walther in Berlin. She has exhibited widely in the UK and Germany including at Mostyn, Cass Sculpture Foundation, National Museum Cardiff, Boros Collection, Künstlerhaus Bethanien, Georg Kolbe Museum and Kunstverein Braunschweig.